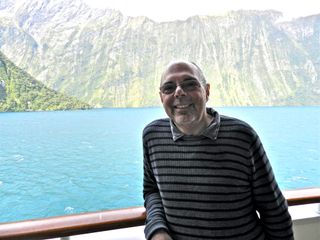 Band Leader, musician, composer, award-winning record producer, engineer and educator. Rick Kilburn can lay claim to all of the above.
  Born and raised in a musical family from Vancouver, B.C., Kilburn grew up listening to and playing Jazz. He attended the prestigious Berklee School of Music in Boston, Massachusetts, during 1973/74, and from there moved to New York, where he worked as a bassist with such diverse players as Dave Brubeck, Mose Allison, Airto, Flora Purim and Chet Baker
 After ten years in New York, Kilburn returned to the West Coast of British Columbia. He taught music and improvisation at Malaspina College on Vancouver Island from 1984 to 1987 and started his first production company, creating jingles and sound tracks for radio, television and film.
 Kilburn joined the faculty at Vancouver Community College in 1987, teaching bass and master classes, as well as developing a course in demo production and giving workshops in recording.
  From 1990 to 1995, he was on the faculty of the Jazz Workshop at the Banff Center for the Arts, originating and developing the audio portion of the program that attracts engineers from around the world. Audio participants receive hands on experience in live sound reinforcement, microphone techniques, recording, and mixing.
In the past couple of decades, Kilburn has produced over 100 Album projects, released on both major and independent labels. 
  Rick Kilburn has enjoyed a fifty year career as a Jazz Bassist, working with some of the top jazz artists around. During this period he has played with Mose Allison, Dave Brubeck, Darius Brubeck, Dan Brubeck, Jerry Bergonzi, Paul Desmond,  Gerry Mulligan, Chet Baker, Red Rodney, Walter Booker, Billy Hart, Keith Copeland, Tom Whaley, Claudio Maxit, Hugh Fraser, Don Thompson, Jim Hall, Ed Bickert, Philippe Lavoipierre, John Scofield, James Moody, Joe Lovano, Jean Toussaint, Kenny Werner, Diana Krall to name a few...
  Some of the venues Rick has performed at include The Village Vanguard, The Village Gate, Bradley's, Bottom Line, the Rainbow Room, the Blue Note in New York City, The Top of the Senator and Maple Leaf Gardens in Toronto. Concert venues that Rick has performed at include: Avery Fisher Hall (Lincoln Centre), Carnegie Hall, Kennedy Centre, Boston Symphony Hall, the Orpheum, and Queen Elizabeth Theatre in Vancouver and the Port Theatre in Nanaimo, B.C.
 Guest appearances accompanying various groups performing in concert with Symphony Orchestras include: Dave Brubeck Quartet with the Cincinnati Symphony, New Orleans Symphony, Ohio State Symphony, The Joffrey Ballet with the Chicago Symphony at Ravinia, Southern Cross Quintet with the Vancouver Symphony Orchestra.
 Rick is leader of The Rick Kilburn Quartet that worked for Princess Cruises from 2009 to 20016 and from October 2019 to February 8th 2020, Rick joined the Sky Princess for it's inaugural season as bassist in the Philippe Lavoipierre trio. The resident jazz trio in the Take Five Jazz Club.
  Rick Kilburn has been written about in the both the New Yorker and Playboy magazines, Inspired Magazine, as well as reviews in many newspapers. TV and Radio appearances include Good Morning America, AM America and CBC Radio/TV.
Previous events
Jazz Concert with Vocalist Narissa Young, Pianist Scott Arkell and Bassist Rick Kilburn.
Rick is currently working on a number of recording projects that include Baird, Black and White, Jim Cameron-Liam Hockley Quartet, Narissa Young project and Ahrina Nielsen project.